Jun 20, 2022
4 minute read
TABLE OF CONTENTS
Why Is a Slow Dog Feeder Bowl Important?
How to Choose a Slow Feeder Bowl for Your Dog
Introducing PAWAii Dog Slow Feeder
Conclusion
Dogs naturally eat very fast
. And, physiologically, they avoid getting too much saliva into their food. Saliva promotes food digestion, and faster digestion means it is easier to starve. Moreover, dogs can't chew their food because they can only move their jaws up and down, not sideways. Therefore, choosing a slow dog feeder bowl for your furry friend is best. Fortunately, this article discusses everything on selecting the most suitable slow dog feeder bowl.
Why Is a Slow Dog Feeder Bowl Important?
As the name implies, a slow dog feeder bowl slows eating speed. Therefore, your dog won't have to eat too much or too fast. When humans or dogs eat fast, the brain doesn't feel full, thus increasing the quantity of food consumed. And because dog food is puffy, eating too fast causes stomach bloating.
Another reason a slow dog feeder bowl is essential is that it reduces inhalation of air and reflux. Reflux occurs when food returns to the mouth from the esophagus or stomach, and sometimes it causes dogs to vomit.
In addition, a slow dog feeder promotes the biting of food, increasing food absorption. Also, some slow-feed bowls have a mechanism similar to brushing human teeth. Thus, they help your dog maintain oral hygiene to an extent. Check here to learn more about
Why Should You Buy a Slow Feeder Dog Bowl
?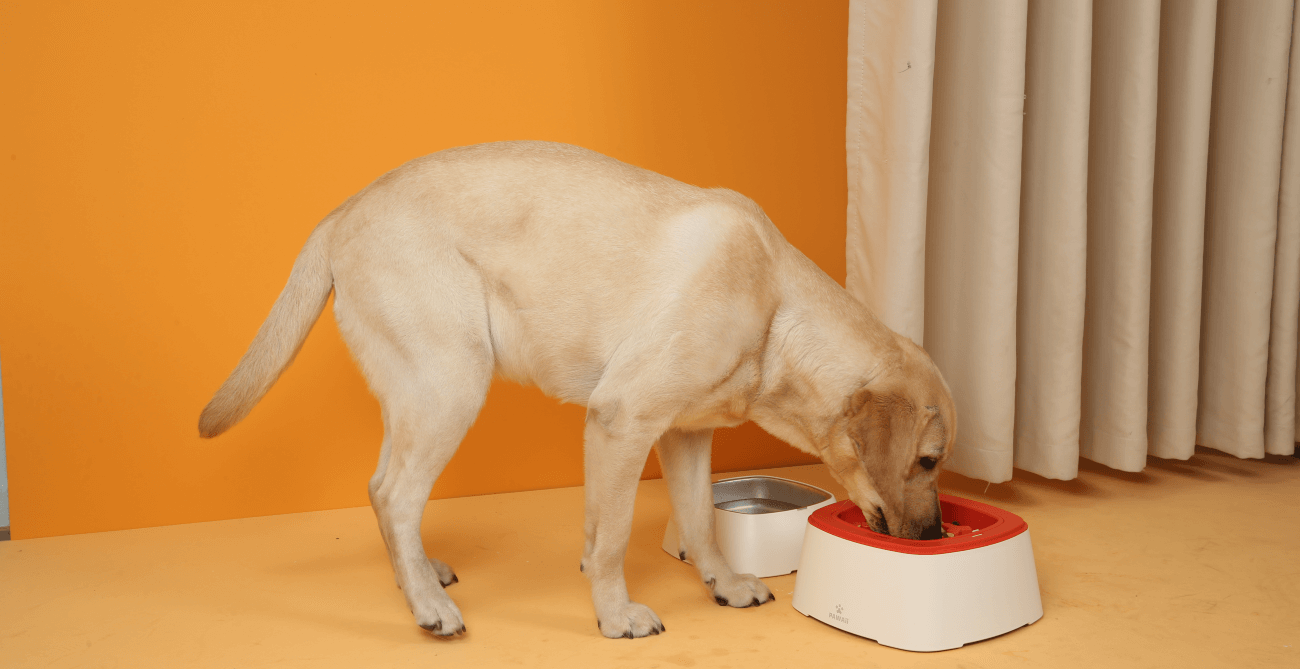 How to Choose a Slow Feeder Bowl for Your Dog
Choosing a suitable slow feeder bowl for your dog is pretty straightforward, especially if you follow four critical factors including,
Bowl Type
Slow feeder bowls have various shapes. But, they can be roughly divided into different types. This section discusses the characteristics of each food bowl type and the products that meet your furry friends' characteristics and habits.
Concave and Convex Bowls
Concave and convex slow-feed bowls have varying shapes and are affordable. These types of food bowls are the most common. They slow your furry friend's eating speed and are available in various color options and internal curved designs.
Finding a suitable concave or convex slow feeder bowl for your dog is straightforward. Apart from being affordable, you can't go wrong with these feed bowls, especially if you don't want to spend much time comparing.
Grass Bowls
Grass slow feeder bowls have random protrusions simulating a turf. Therefore, they allow your furry friend to enjoy the fun of foraging. In addition, you don't have to worry about size or capacity with grass slow feeder bowl types, unlike ordinary food bowls.
Small and large dogs enjoy eating from grass slow feeder bowls because they feel like they are foraging in the grass, which is pleasurable and fun. However, these food bowl types spread feed everywhere, making it unsuitable for dogs with short muzzles, for instance, pugs. In addition, feed sticks in the gaps within this bowl, causing impatient dogs to give up using the bowl.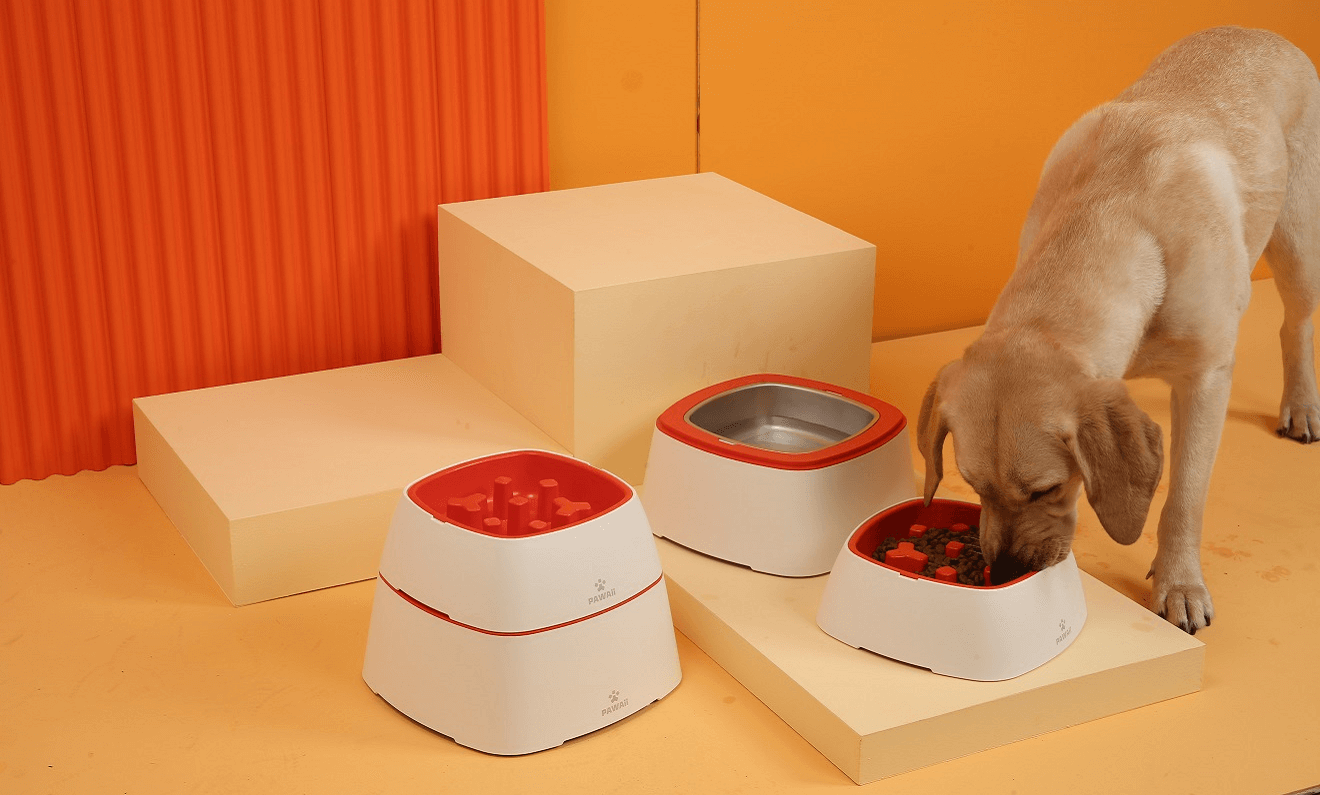 Sphere Bowls
Spherical food bowls have a deep bottom, solving the problem of feed falling all over the floor. Therefore, this bowl is suitable for dogs that eat all over the floor.
Most spherical food bowls shake like a tumbler, slowing the speed of a dog's feeding. The only downside to this slow-feed bowl is that it is also unsuitable for short-nosed dogs.
Bowl Size and Depth
The feeder bowl's size and depth are other key factors to consider before purchasing a dog bowl.
Ensure feed does not cover bumps after it is poured
The bowl size is critical in choosing a concave and convex slow-feed bowl. Ensure the bowl is large enough to prevent food from covering all the protrusions. If you use the wrong bowl size, your dog will continue eating even after it is full. And since larger dogs eat a lot, a small bowl or a bowl that is not high enough is not the best for them.
Ensure the bowl is still the correct size at both ends after your dog opens its mouth wide
The best slow-feed dog bowls should be deep, have an excellent slow food effect, or have high bumps that prevent the feed from covering them. Nevertheless, as much as you want the food bowls to be large, being too large is a burden on your dog. Therefore, when choosing a food bowl, ensure your dog can easily open its mouth and that both upper and lower jaws can reach the two ends of the bowl even after opening its mouth. This way, your dog gets to feel relaxed when eating instead of being forced.
Choose a bowl depth and bump that fits your dog's mouth tube
When choosing a dog slow feed bowl, it is best to consider your dog's body and mouth tube shape. For instance, dogs like afghan hounds and mini dachshunds have longer mouth tubes. Therefore, feed bowls with high protrusions and deep bottoms are more suitable for them. On the other hand, flat-faced dogs like the French bulldog and pug find it more convenient to eat from bowls with shallow bottoms.
Anti-slip Effect
Dogs obsessed with food tend to overeat. If the food bowl keeps sliding while these dogs eat, they feel nervous that someone wants to snatch their food. Fortunately, you can ease your dog's anxiety by ensuring it eats slowly and attentively. Therefore, it is best to go for food bowls with enough weight, so they don't slide.
Ease of Cleaning
After eating, you have to clean the food bowl. It is difficult to clean food bowls when they are too big or heavy or if they easily hide dirt in the gaps. Therefore, when purchasing a slow dog feeder, consider how easy it is to clean.
Introducing PAWAii Dog Slow Feeder
Types of Slow Dog Feeder Bowl
Fortunately, when looking to buy a slow dog feeder bowl, you are not restricted to one type. Instead, there are different types for different purposes.
Multiple Use Single Bowl
Although this dog bowl is just one, it is multipurpose. You can use it in four ways depending on your and your dog's preferences. In addition, this magic bowl has a capacity of 68oz, making it suitable for both large and medium-sized dogs. Furthermore, you can easily detach the bowl for easy cleaning and refilling.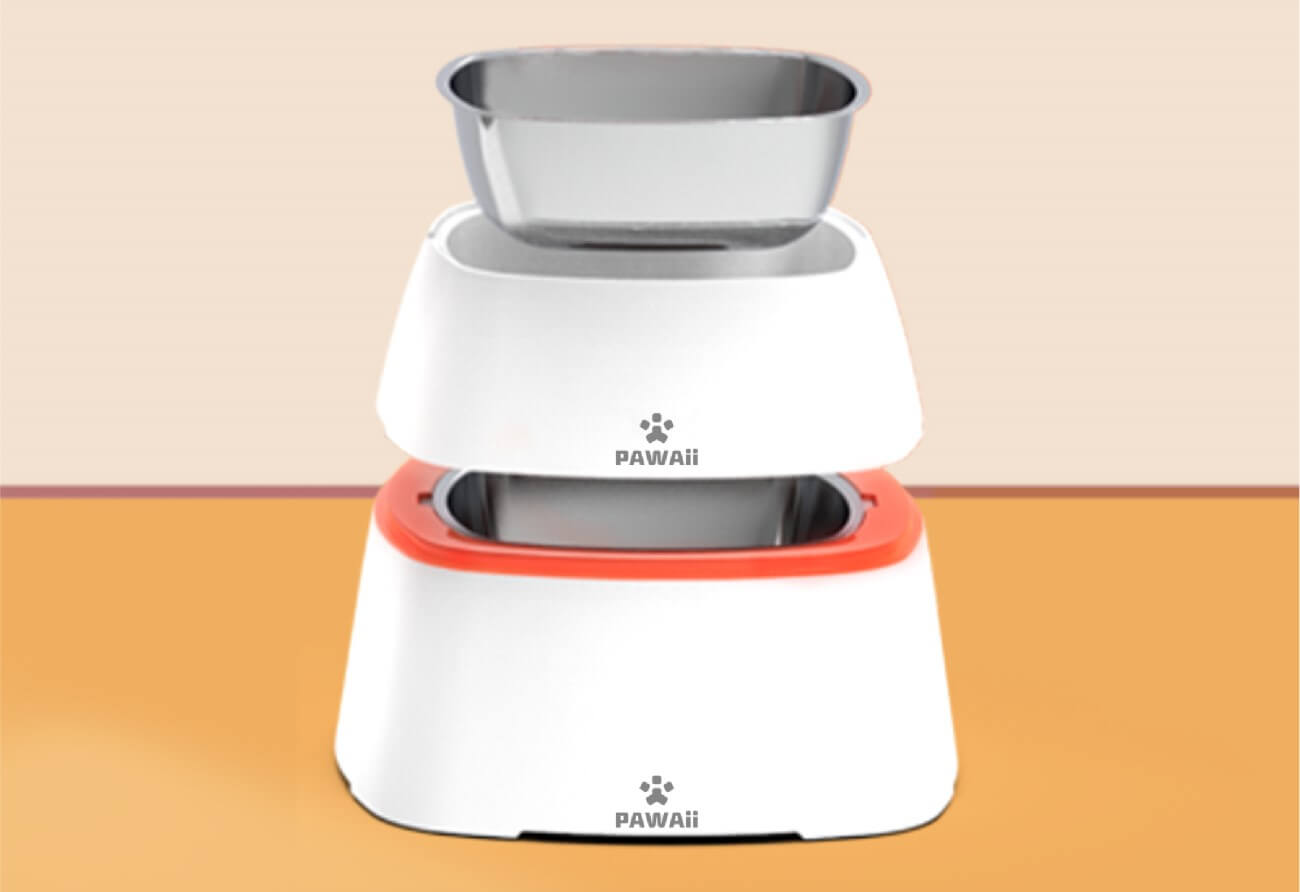 Double Bowl
This magic bowl is from stainless steel material. You can use one for food and the other for water. Consequently, your furry friend can eat food and drink water during meals. In addition, this bowl is particularly suitable for multiple pet households.
Slow Feeder
The slow feeder dog bowl reduces the feeding speed of your dog. Therefore, this bowl can help extend the eating period, reduce overeating, and protect your dog's digestive system.
High Position Bowls
This type of dog feeder consists of two bowls. You can stack up the bowls to form an elevated food bowl. Consequently, your dog can eat at a comfortable angle without any pressure on the joints.
Keep Water Cool or Warm
This type of dog feeder keeps water cool and warm.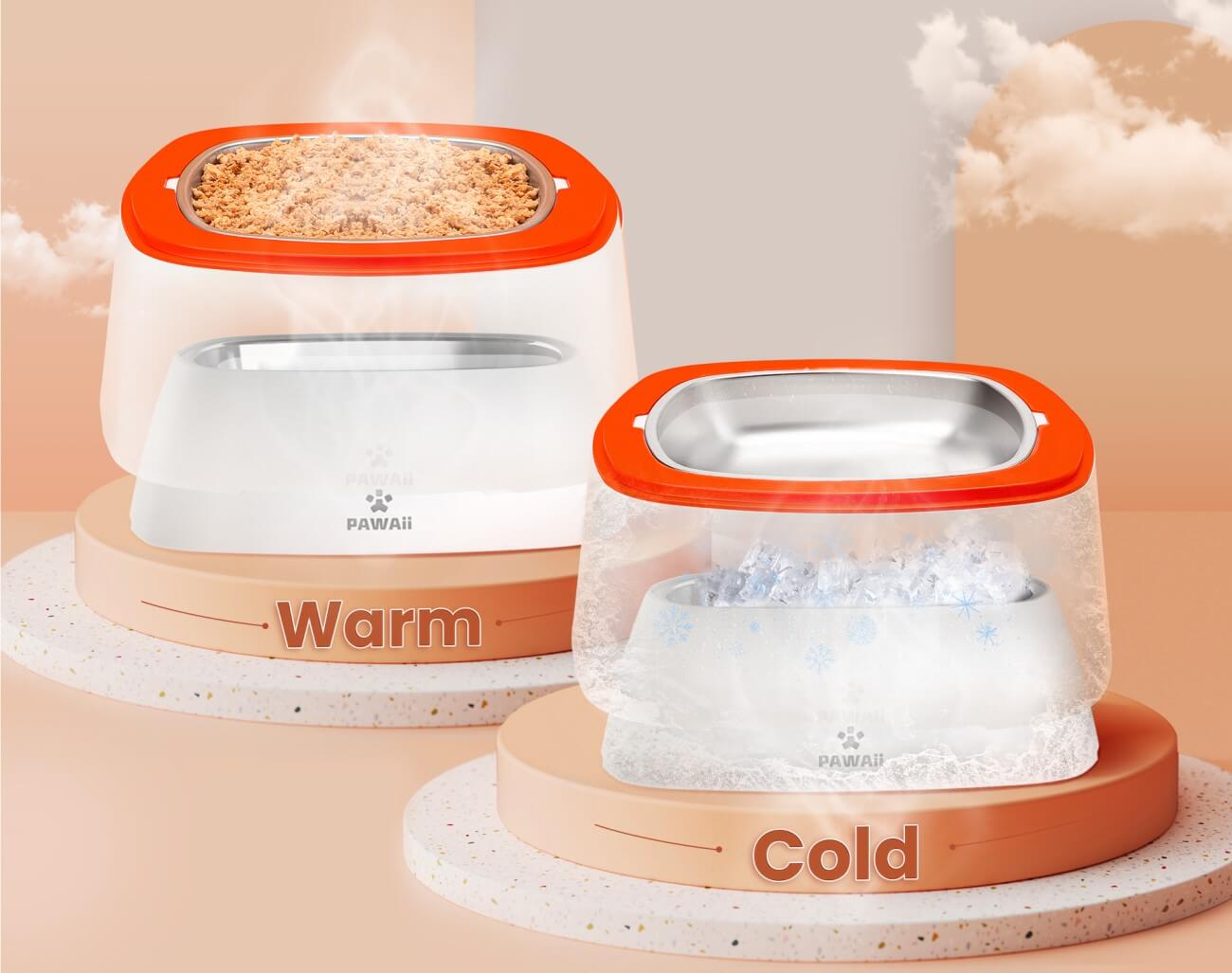 During summer, you can add ice cubes to the bowl at the bottom before filling the bowl above with drinking water. Consequently, your dog gets to enjoy the cool water.
During winter, you can add warm water to the bottom bowl and food to the top bowl. The stainless steel bowl then keeps the food warm.
Conclusion
Hopefully, this article has given hints on what to consider before purchasing a dog slow feeder bowl. A suitable slow feeder bowl for your dog should be convenient for eating and easy to clean.
SUBSCRIBE
Subscibe for our newsletter to get updates on the latest products, offers, and more.