Oct 10, 2022
2 minute read
TABLE OF CONTENTS
Tips For A Successful Trip With Pets
Travel Accessories For Your Pet
To Round Up
We all look forward to having our furry friend on a trip. But it is not as simple as it seems. Traveling with your pet can be pretty demanding, especially if you're a first-timer. Having a successful trip with your pet requires adequate research and planning.
Tips For A Successful Trip With Pets
First, you should treat your pet as an individual, because every pet is unique, just like humans. The following tips will help guarantee you and your furry friend have a wonderful journey.
Plan Ahead
Know more about the airline or airport

If you're flying with your pet, you can start by researching your airport and airline to see the size and type of species allowed on the plane. This will enable you to choose the suitable pet carrier as approved by the airline.

Choose pet-friendly hotels

Prioritize hotels that allow pets when planning your accommodation on the trip. You don't want to choose a rest stop or hotel where your pets are not welcome. Fortunately, several pet-friendly hotels are out there—all you have to do is adhere to a few rules.
Help Your Pet Get Used To His New Temporary Home
It is best to help your pet acclimate to his new home before setting out. This involves training and making him feel comfortable inside the carrier while you are still at home. Helping your pet get used to the carrier makes your travel day less stressful.
Avoid Stress As Much As Possible At The Airport
Pets tend to get unsettled in noisy areas like the airport. Therefore, securing your pet in his travel carrier is advisable before you get to the airport. You can cover the carrier to make him more comfortable until you get to your destination. If your trip extends over 6 hours, you should give him a potty break and allow him to have some water.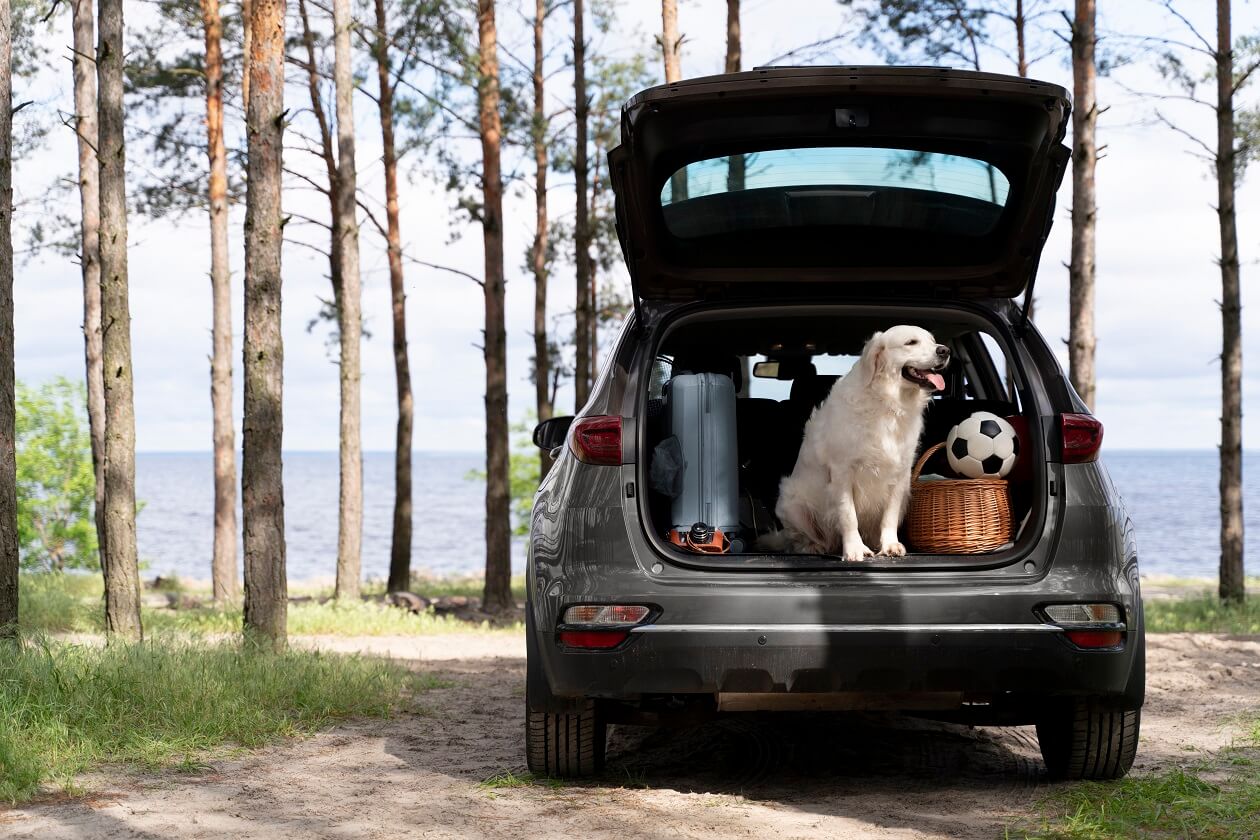 Travel Accessories For Your Pet
Once you have researched the
pet travel regulations
, the next step is to plan how to secure, feed, and entertain your pet while on the move.
Pet Carrier
As mentioned earlier, you need a pet carrier for your small and medium pets. Most carriers are designed for dogs and cats. Ensure your carrier is properly labeled with the owner's name, phone number, home address, and destination contact information. You should also include a clear sign stating "Live Animals" to show anyone that the carrier contains a pet. The ideal pet carrier, irrespective of the size, should be adequately ventilated on either side, and the exterior rims and knobs should not prevent the inflow of air.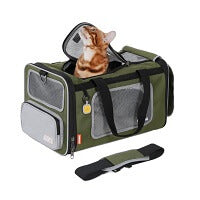 Pet Seat Belt
You will need a pet seat belt if you are on a road trip with your pet. A recent survey showed that only
16% of pet owners restrain their dogs on car trips
. A pet seat belt helps secure a large dog while in the car. Additionally, it minimizes the distractions to the driver from the pet.
Feeding Essentials
Lodging in pet-friendly hotels isn't a guarantee that you will get feeding accessories. Preparing feeding accessories like a portable
feeding bowl
is advisable, especially one made of sturdy, non-breakable material. Feeding your pet with a bowl they are already used to is an advantage—it relieves travel
anxiety in pets
and helps them settle in faster.
Disposable Bags For Pet Waste
You will need to clean up your pet's waste regularly while on the trip, and you will need several disposable bags for that. Most cats will be okay with disposable cat litter boxes, plus the boxes also prevent the issue of your cat refusing to excrete because of the new environment.
Calming Toys And Treats
Pets want to have their play toys within reach, whether at home or not. Moreover, providing your dog with his favorite squeakers and balls, and your cat with interactive toys can keep them busy and prevent stress. It also makes the entire situation easier for you because your pet stays entertained for most of the trip.
To Round Up
Going on a trip with your favorite furry friend is always a great experience. If you have not done it before, it is definitely one to look forward to. As stated in this blog, you must prioritize your pet's safety and comfort to ensure a successful trip. Proper planning is also vital; it makes the experience less stressful and more rewarding for you and your pet.
SUBSCRIBE
Subscibe for our newsletter to get updates on the latest products, offers, and more.