Nov 21, 2022
2 minute read
TABLE OF CONTENTS
Consult an Expert Before Anything Else
It Is Important to Book Flights Very Early
Use An Airline-Approved Pet Carrier
Anticipate and Prepare for The Security Check
Use Exclusive ID to Prevent Pet Loss
Finally…
Are you planning to fly with your dog and already feeling nervous? Well, this is not strange. Several pet owners have reported heavy nerves when preparing reservations and necessary documents for their pets. But most need to realize that the key to successful airline travel with your pet is to start preparations days before the trip. This blog provides a few helpful tips to prepare you and your dog adequately for your flight.
Consult an Expert Before Anything Else
We are always eager to bring our furry pals wherever we visit. But this shouldn't be the case when preparing for a flight with your dog. You must consider a few things before making that decision. For example, how long is the trip going to be? Can your dog handle the stress that comes with flying? Do you really have to take your dog with you?
If you are unsure of your answers to these questions, we recommend speaking with an expert. Your vet is experienced and knowledgeable enough to offer you professional advice on areas like your pet's physical condition and medical readiness for airplane trips. They can also help you understand the associated risks with such trips.
It Is Important to Book Flights Very Early
Direct flights are generally preferred over connecting flights when flying with your pet. Depending on the plane or airline, there may be space on board
for only a few dogs
. Booking ahead of time increases your chances of getting a spot for your pet. Some airlines also restrict where you can sit if you are coming aboard with your dog. For instance, you may not be allowed in first class or business class, as well as bulkhead rows or emergency exit seats. You may also have to pay more if you bring your dog, depending on the airline and whether your dog is traveling in cargo or cabin.
Use An Airline-Approved Pet Carrier
There are certain conditions your in-cabin pet carrier must meet before you are allowed to board, particularly the size and type of the carrier. While the sizes of carriers depend on the airline you are patronizing, the generally recommended maximum dimensions for soft-sided airplane-approved pet carriers are
18 x 11 x 11 inches
.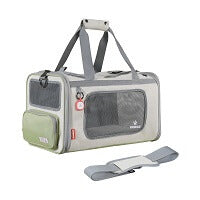 The dimensions of the PAWAii Travel Pet Carrier are 16.9*10.6*10.6 inches, and the weight is less than 6 kg. It easily meets the TSA size requirements of airline approved pet carrier, and you can use it to carry your pet on the plane. The PAWAii pet carrier bag is also expandable on one side, creating even more space for your dog to stretch and relax while in the air. This collapsible pet carrier also provides even more space and protection for your pet from stress.
Anticipate and Prepare for The Security Check
The TSA regulations state that
small pets are allowed through the checkpoint
. If you meet this requirement, then it is vital to control your dog using a leash at the checkpoint. You will be required to remove the leash before passing through the metal detector. Your pet carrier will also be assessed visually and/or physically.
If it is your pet's first time flying, the security check can unsettle them. We advise you to begin preparations and help your pet anticipate the situation ahead as soon as you have booked the flight.
Use Exclusive ID to Prevent Pet Loss
The PAWAii travel pet carrier comes with a food-grade, customizable silicone tag. You can set up the tag electronically to add your contact as a pet owner and other relevant information like your pets' habits, allergy history, and vaccination history. The tag and the information it contains can help finders take proper care of your pet and reunite them with you in the shortest time possible. They simply need to scan the QR code to access this information. The tag is also anti-wear and anti-bite, making it more durable than regular silicone.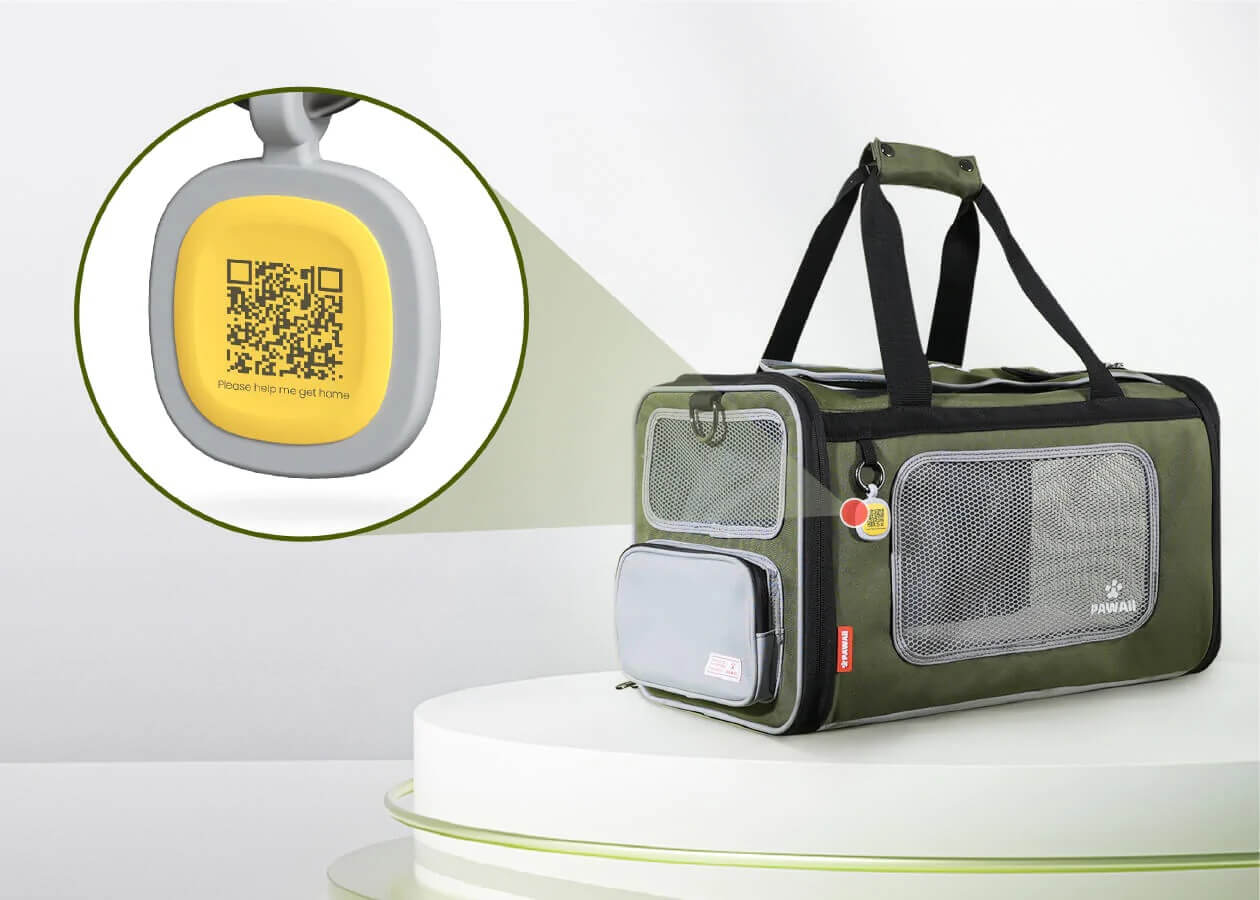 Finally…
We tend to oversimplify the process of flying with our dogs. But it is not as simple as throwing in an extra backpack. Instead, it requires proper preparation and planning. If you want to take your dog on a plane, you must prepare the essentials and help your pet get ready early. This blog about
Tips for Taking a Plane with Your Cat
will also be helpful.
SUBSCRIBE
Subscibe for our newsletter to get updates on the latest products, offers, and more.