PAWAii Wireless Pet Water Fountain Pro
Water-electricity Separation
PAWAii Wireless Pet Water Fountain
Others
30-Day Battery Life
5000mAh rechargeable battery
No biting on wires
H2Oh Yeah! Ultimate Hydration Tracker for Pets
Smart weighing base
Drinking report on APP
Checkable water intake
A Breeze to Clean
Disassembly takes just 5 seconds
*Please note that the smart weighing base and the external water pump are not designed to be washed in water.
3 Ways to Hydrate Your Pet
Inductive mode
Regular mode (1x dispensing per hour)
Manual mode
*The 3 modes exist simultaneously.
Greet Your Pet with More Safety
Water-electricity separation design
Whisper-quiet 30dB Water Pump
Specifications
Dimensions
10.6*5.7*7.1 inches
Materials
HIPS + AS + ABS
Built-in Battery
5,000 mAh lithium-ion battery
Ultraviolet Light Type
LED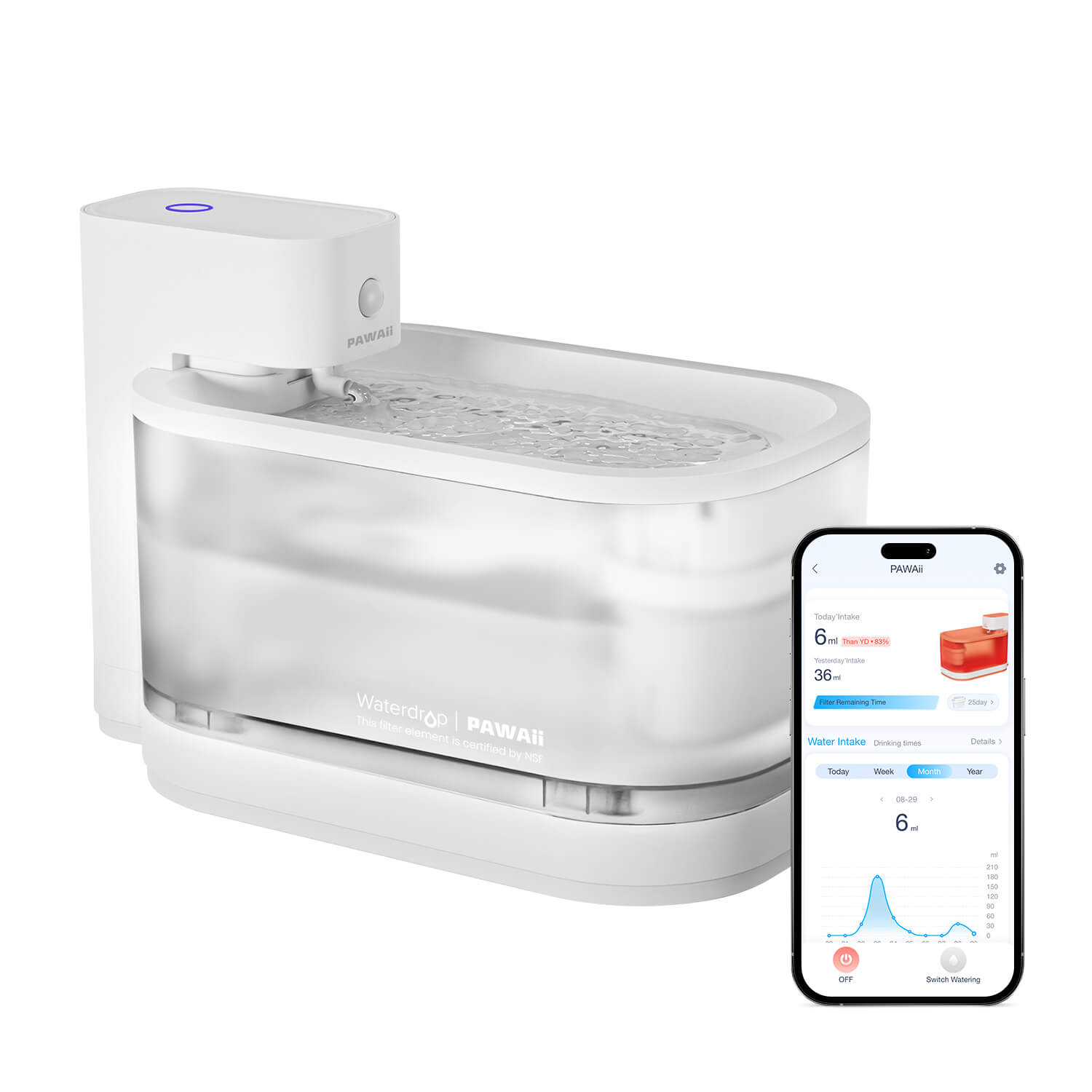 Frequently Asked Questions
Is there any difference between this pet fountain and a common pet fountain?
With an external water pump, this fountain can really achieve water-electricity separation, keeping your pets safe during drinking. Besides, its battery-operated mode allows you to place it anywhere your pets always hang around, thereby meeting different drinking habits of pets easily.
What is "monitoring on pet's drinking"?
Everything about your pets' drinking condition, covering the duration, intake, and frequency, will be monitored via PAWAii APP, just for easy checks.
How long does the fountain last after a full charge of this 5,000 mAh battery?
A maximum of 30-day endurance could be achieved during normal use. While in actual use, the endurance of the fountain will vary slightly depending on the number of pets you feed, the drinking habits of your pets, etc.
Can I use the fountain in a plug-in state in case I forget to charge it?
Of course. This fountain comes with a USB Type-C cable, which can ensure you to continuously use it in the plug-in mode. And please charge the fountain via any charging hole in the base or the external water pump.
Why doesn't the data display on the app immediately sometimes after my pet's drinking?
In the battery-operated mode, the data will be updated once every 4 hours, for the multiple purposes of lower power consumption, and longer battery life. The fountain can also be used in the plug-in mode, and your pet's intake data will be updated and displayed on PAWAii APP instantly. Because in this case, the fountain is connected to the server in real-time.
How to maintain this fountain?
In order to keep your pet healthy, we recommend that you clean the fountain every week and replace the filter on a monthly basis to ensure that your pet can always have access to clean water. The fountain does not require additional maintenance and can work normally on a stable surface. Please do not expose the device to an environment of high temperature and high humidity.
I often go away on business. How many days can this fountain cover my cat?
When filled with water, the fountain can ensure at least a 7-day supply for a cat of normal size.
This fountain can be used in the porch area. To get the best work performance, it is not recommended to use it outdoors.
What is NSF certification?
NSF (NSF International) was founded in 1944 as the National Sanitation Foundation. It is a non-profit organization that sets a course to create independent standards, product testing, and certification programs in the field of public health. Water quality & safety certification standards developed by NSF are taken as the leading industry standards.
Sorry, this item is not available, please check later.
12345 [ndnapps-contactform]